Vail Comedy Show is back October 14 in the Vail Village at Bridge Street Bar! (Please note that Bridge Street Bar is a 21+ establishment, you must be 21 years old or older to enter). With a proper stage, ready access to drinks, and an amazing basement comedy room feel we could not be more excited (this new venue has proper seating, great sound, legit lighting and more!). For years the Vail Comedy Show has brought stand up comedy entertainment to thousands with comics from HBO, Comedy Central, Late Night with Stephen Colbert, CONAN and a lot more. Brought to you by the Drink Defender, Root & Flower and Drinking Vessels. Former friends Vail Brewing Company and The Riverwalk Theater will always be in our hearts. Comics from around the country!
Come check us out on October 14 2021, 7:00PM at Bridge Street Bar, also check out Comedy Test Kitchen every Friday for 30 minutes of online stand-up comedy fun! Our shows are now at the BRIDGE STREET BAR in VAIL COLORADO. Check out a picture of a recent Vail Comedy Show at the Riverwalk Theater, click here. We grew attendance to 75 people there and hope to make our newest location a similar success! Below see pictures from the pre-pandemic times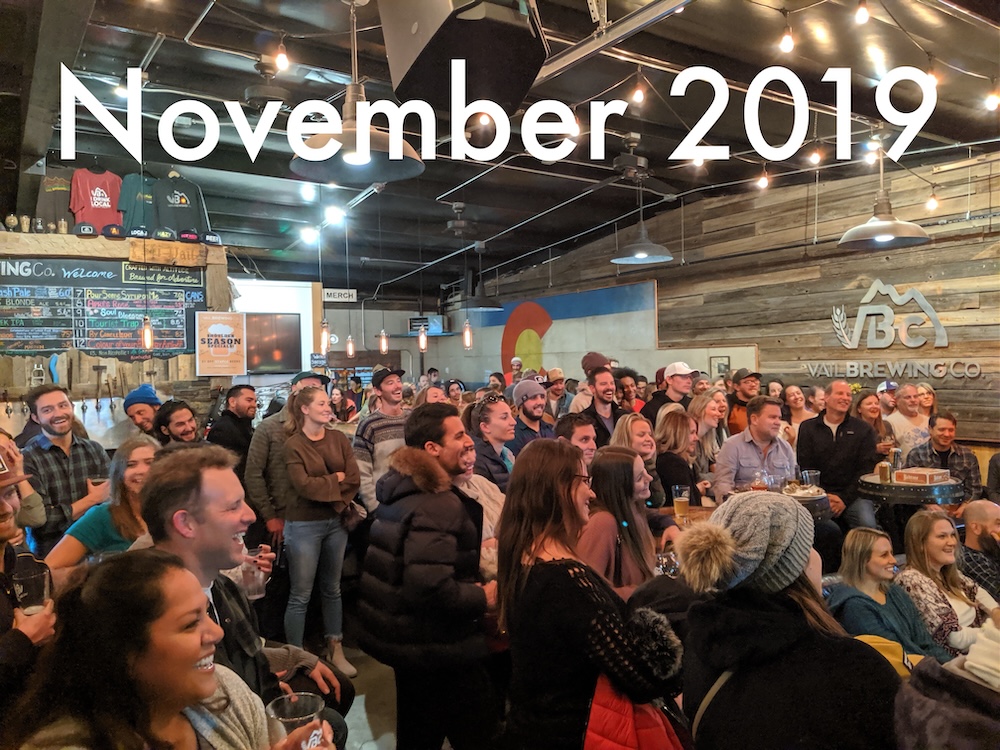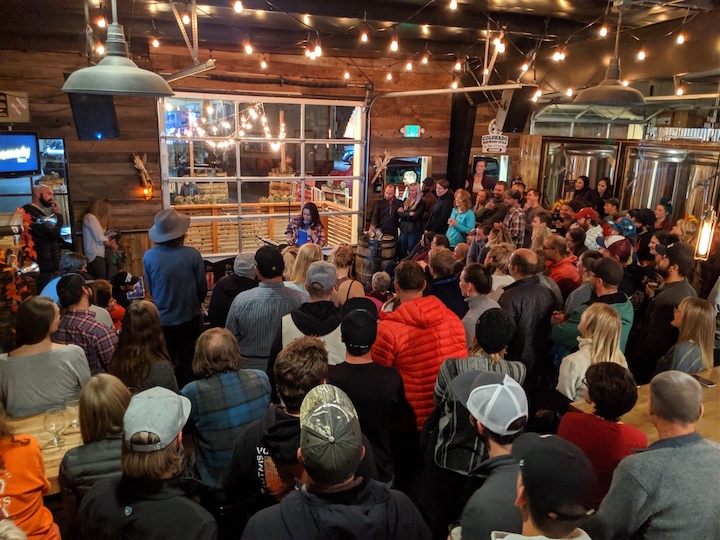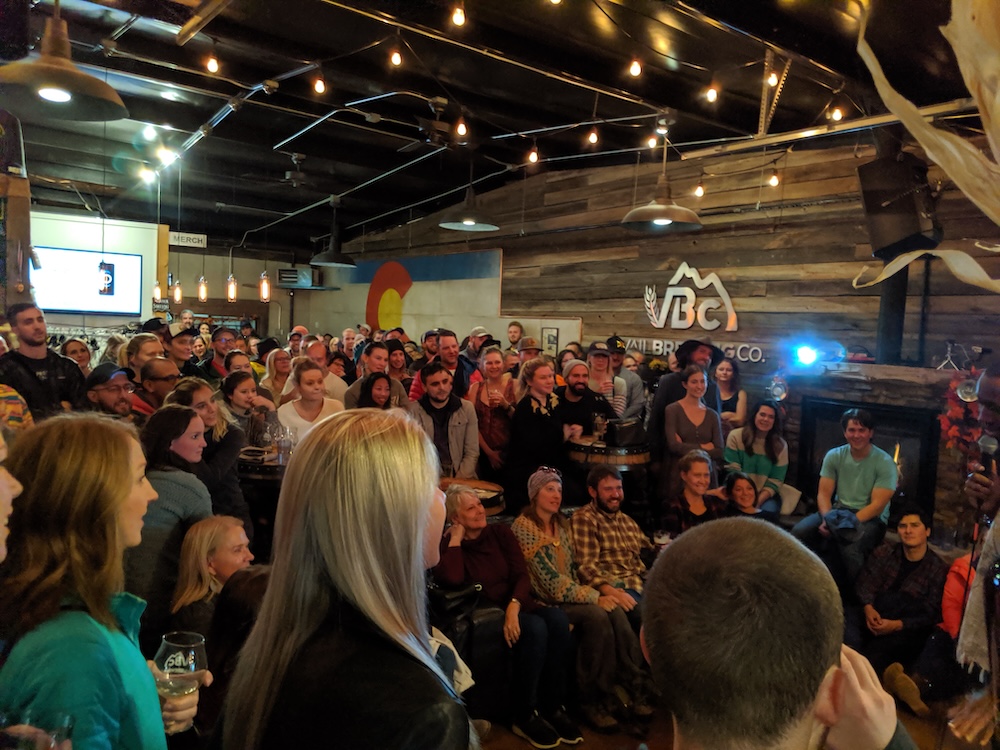 The Vail Comedy Show (www.vailcomedyshow.com) is a monthly opportunity to laugh your face off with the best stand-up comedians visiting Vail, Colorado. Thanks for support from The Bookworm, VBC, The Drink Defender, Riverwalk Theater and Root & Flower Vail.
The Vail Comedy Show Returns!
We are back and trying to make a go without direct financial support from sponsors, please buy a ticket and come enjoy some laughs. We can always use additional financial support, not a lot, but some would help a lot. Please ask a business on our behalf if they can spare a few marketing dollars a month in 2021. Or to work with Vail Comedy Show for a private comedy show for co-workers. You can read more about our journey during the pandemic here: (2020/11/07 Letter to the Vail Daily Editor by Mark Masters) Corona, community and the Vail Comedy Show
NEXT SHOW
Our next show will be October 14, 2021 at 7:00PM (Doors 7, show 8). Get all the details here We are available for private parties, email vailcomedyshow@gmail.com
Thank you to the thousands that have participated since our online return in June 2020! We have had comics from Comedy Central, NBC, CBS, The Late Show with Stephen Colbert and more. If you haven't checked it out yet what are you waiting for?! Below is a video that played at the start of the June show (1 minute):
Past shows:
Press coverage:
Lineup subject to change.
Private Shows
Want a comedy show at your party or event? Get in touch, we can put together a professional showcase of online comedy. In the future when things are safer, on the night of any show in town, we are available to perform afternoon or early dinner time at your private event, with advanced coordination.
We have some of the best food in the valley at our shows ... until it sells out! When we are at VBC Check out Rocky Mountain Taco and when we are at the Riverwalk Theater get something from the concessions and bar. They are creative check out the soft serve Stout float with Son of a Baptist beer.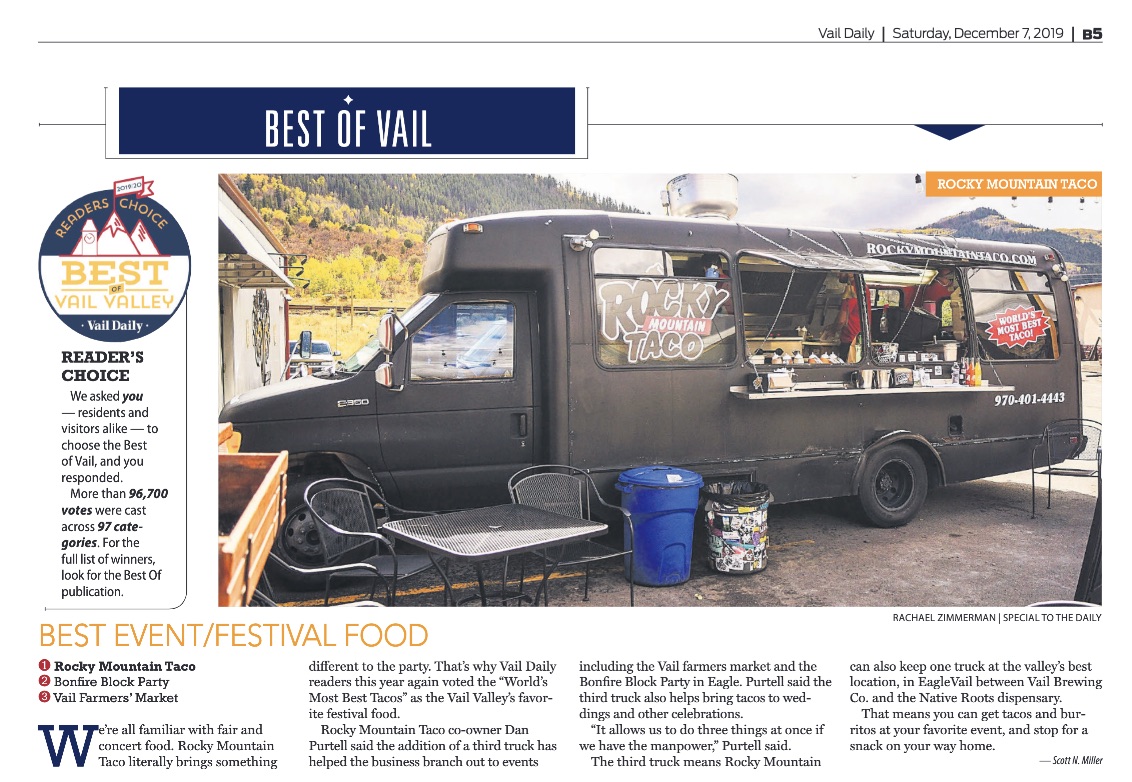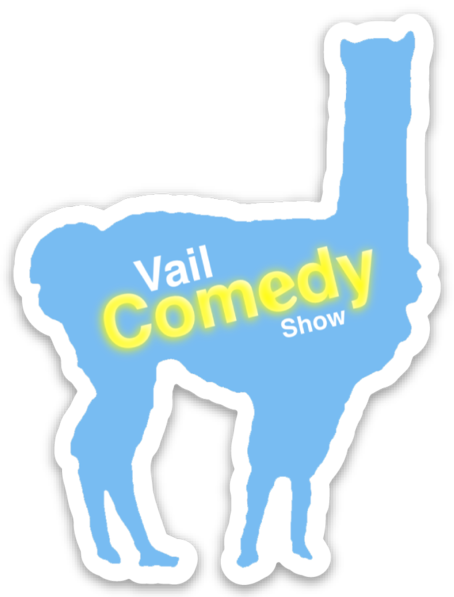 Want to support the Vail Comedy Show?

Buy a unique die-cut 3" alpaca themed sticker! For a sticker send $5 (for instructions and to provide address email us.)