Vail Comedy Show has been described as "amazing", "hilarious", "surprisingly good", and "a fun and different experience". Vail Comedy Show is the best ski bar comedy show in America. For years the Vail Comedy Show has brought stand up comedy entertainment to thousands with comics from HBO, Comedy Central, Late Night with Stephen Colbert, CONAN and a lot more. Brought to you by the Drink Defender, Antlers At Vail, Lodge Tower, Mark Gordon, Sweet Basil and DrinkingVessels.com. Former friends Vail Brewing Company and The Riverwalk Theater will always be in our hearts. Root & Flower was a great supporter through the end of 2021, we will be forever grateful. Thank you Shaun Ulvila for the beautiful photo at top of this page. Comics from around the country!
Come check us out at our next show, 7:00PM doors (show 8:00PM) at Bridge Street Bar, also check out LoDo Comedy Show in Lower Downtown Denver. Stay tuned for more information about Vail Comedy Festival coming Memorial Day Weekend 2022. Vail will fill with comedians from The Comedy Cellar, The Comedy Store, HBO, CBS, NBC and more. Update: SOLD OUT! Amazing times! Mark your calendar for Memorial Day Weekend 2023 (May 26-28 Fri/Sat/Sun) Here is a picture of a show at our latest venue, Bridge Street Bar. We have had shows at a movie theater (Riverwalk Theater in Edwards, CO--for picture click here), we have also held shows at Cucina at Lodge at Vail, at Sarah's Lounge in Christiania and at Moe's Original BBQ in Eagle, CO. We have done pop-up shows all over Vail Valley.
The Vail Comedy Show (www.vailcomedyshow.com) is a monthly opportunity to laugh your face off with the best stand-up comedians visiting Vail, Colorado.
The Vail Comedy Show seeks Sponsors!
Grow your brand and associate with a trusted source of mental health improvement for our community, years of consistency, and perks. Reach out for more information! Vail Comedy Show at Gmail dot com Or to work with Vail Comedy Show for a private comedy show for co-workers. You can read more about our journey during the pandemic here: (2020/11/07 Letter to the Vail Daily Editor by Mark Masters) Corona, community and the Vail Comedy Show
NEXT SHOW
Future shows (if no location specified that means at Bridge Street Bar in Vail Village):
Possible show Wednesday March 22, 2023 in Vail Village
No single shows in May (Festival prep)
May 26-28, 2023 (Friday - Sunday) - check out Vail Comedy Festival over Memorial Day Weekend
lots of shows!
June 15, 2023 (Thursday)
July date TBD
September 14, 2023 (Thursday)
We are available for private parties and corporate events in the Vail area, curated comedy shows perfect for your event, email vailcomedyshow@gmail.com
Thank you to the thousands that have attended a Vail Comedy Show! We have had comics from Comedy Central, NBC, CBS, The Late Show with Stephen Colbert and more. If you haven't checked it out yet what are you waiting for?! Below is a promo video from a show at our current venue (1 minute):
Past shows:
January 19, 2023 - (Steve Gillespie, Rob Haze, Nic Dean, Mark Masters)

January 18, 2023 - Pop Up Comedy Show at Moe's Original BBQ in Eagle, CO (Steve Gillespie, Nic Dean, Brett Hiker, Mark Masters)

January 4, 2023 (Wednesday) - Sean Patton AND Amy Miller - Pop Up at Chasing Rabbits - Hosted by Mark Masters

December 14, 2022 - Pop Up Comedy Show at Moe's Original BBQ in Eagle, CO (Lisa Curry, Sammy Anzer, Mark Masters, Special Guests) - Grand Hyatt Vail

November 29, 2022 - Pop Up Comedy Show at Moe's Original BBQ in Eagle, CO (Mike Stanley, Matt Cobos, Christine Tomlinson, Mark Masters) - Grand Hyatt Vail

November 9, 2022 - Pop Up Comedy Show at Grand Hyatt Vail (Steven Rogers, Brad Galli, Mark Masters, Special Guests) - Grand Hyatt Vail

October 29, 2022 - Pop Up Comedy Show at Moe's Original BBQ in Eagle, CO (Joe Zimmerman, Mark Masters, Special Guests)

July 20, 2022 - Pop Up Comedy Show (Laurie Kilmartin, Andrew Orvedahl, Joe Stapleton, Mark Masters)

February 23, 2022 Pop up Lounge Show (Leah Bonnema, Mark Masters, Charlie Cohen)

December 15/16, 2021 (French Accent, Stephanie Mchugh, Jacob Jonas, Kyle Ruff, Charlie Cohen, Mark Masters)
November 19, 2020 (Laurie Kilmartin, Caleb Synan, Steph Tolev, Sammy Anzer, Rekha Shankar, Chubby Behemoth) [Online]
Press coverage:
Lineup subject to change.
Private Shows
Want a comedy show at your party or event? Get in touch, we can put together a professional showcase of online comedy. In the future when things are safer, on the night of any show in town, we are available to perform afternoon or early dinner time at your private event, with advanced coordination.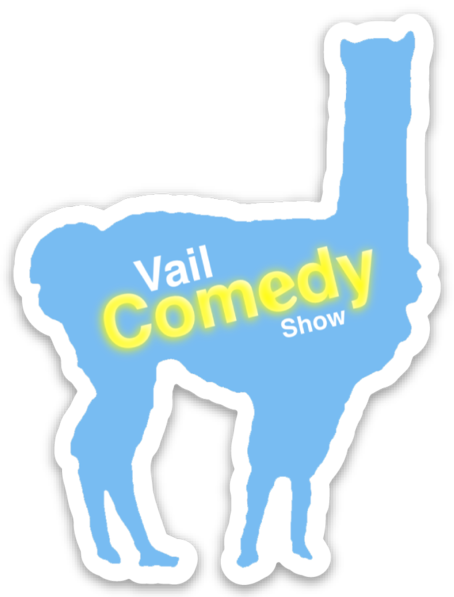 Want to support the Vail Comedy Show?

Buy a unique die-cut 3" alpaca themed sticker! For a sticker send $5 (for instructions and to provide address email us.)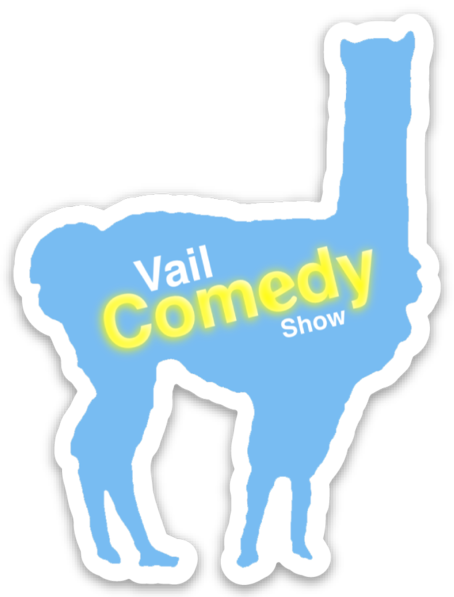 About Drinking Vessels (sponsor)

Drinking Vessels is a Minturn based glass blowing company specializing in all varieties of drinkware. Browse everything from mugs to decanters at drinkingvessels.com. You can also find their hand made chillums locally at Roots Rx, Get Hi Gallery, and Vails Exhale.